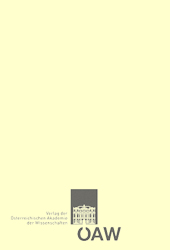 Patrizia  
Giampieri-Deutsch
Psychoanalysis as an Empirical, Interdisciplinary Science


ISBN 978-3-7001-3386-5
Print Edition
ISBN 978-3-7001-3470-1
Online Edition

Sitzungsberichte der phil.-hist. Klasse  717 
Veröffentlichungen der Kommission für Philosphie und Pädagogik  27  doi:
10.1553/3-7001-3386-3
2005  309 pages, Pb., 24x15 cm
€  48,–        


Patrizia  

Giampieri-Deutsch


is Assistant Professor at the Institute of Philosophy at University of Vienna



Die drei Sektionen des Bandes werden durch einen epistemologischen Beitrag von der Wissenschaftsphilosophin und Psychoanalytikerin Patrizia Giampieri-Deutsch (A/I) eingeleitet. Der erste Teil widmet sich den interdisziplinären Untersuchungen der bewussten und unbewussten Prozesse in der Psychoanalyse und den benachbarten Disziplinen wie der philosophy of mind und den Kognitionswissenschaften. Die Protagonisten dieser Forschungen, wie der Psychoanalytiker und kognitive Psychologe Howard Shevrin (USA), die Psychoanalytikerin und Philosophin Linda Brakel (USA), der kognitive Psychologe Max Velmans (GB), die Philosophen und kognitiven Wissenschaftler David Rosenthal (USA) und Pierre Jacob (F) präsentieren ihre neuesten Forschungsergebnisse. Die zweite Gruppe von Beiträgen entsteht am Interface zwischen Psychoanalyse und kognitiven Neurowissenschaften. Die dritte Sektion präsentiert die gegenwärtige empirische Forschung der Psychoanalyse-
…
An epistemological chapter by the philosopher of science and psychoanalyst Patrizia Giampieri-Deutsch introduces the three sections of the volume. The first section is devoted to interdisciplinary investigations on conscious and unconscious processes in psychoanalysis, as well as related fields such as philosophy of mind and cognitive science. Leading researchers in these fields, including the psychoanalyst and cognitive scientist Howard Shevrin (USA), the psychoanalyst and philosopher Linda Brakel (USA), the cognitive psychologist Max Velmans (GB), as well as the philosophers and cognitive scientists David Rosenthal (USA) and Pierre Jacob (F), present their current research results. The chapters of the second section explore the interface of psychoanalysis and cognitive neuroscience: Karl Pribram (USA), the pioneer of cognitive neuroscience, points out the importance of Freud as neurologist following his "Project for a Scientific Psychology" of 1895, the psychoanalyst Regina Pally (USA) introduces the role of emotions in mental life, and the psychoanalyst and neuroscientist Fred Levin (USA) offers a sample of neuro-psychoanalysis.